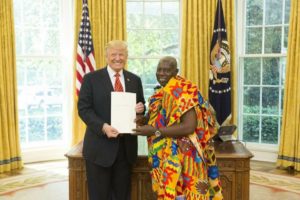 The Department of Homeland Security (DHS) today announced, in coordination with the Department of State, the implementation of visa sanctions on Ghana due to lack of cooperation in accepting their nationals ordered removed from the United States.
Pursuant to her authority under Section 243(d) of the Immigration and Nationality Act (INA), Secretary of Homeland Security Kirstjen Nielsen notified Secretary of State Mike Pompeo that the Government of Ghana has denied or unreasonably delayed accepting their nationals ordered removed from the United States. As a result, Secretary of State Pompeo has ordered consular officers in Ghana to implement visa restrictions on certain categories of visa applicants. Without an appropriate response from Ghana, the scope of these sanctions may be expanded to a wider population. The sanctions will remain in place until the Secretary of Homeland Security notifies Secretary Pompeo that cooperation on removals has improved to an acceptable level.
Although the immigration code allows U.S. authorities to apply visa sanctions on countries that refuse to take back their citizens, the punishment had rarely been used before the Trump administration. Until 2017, Washington resorted to visa sanctions against non-accepting countries just twice — Guyana in 2001 and then Gambia in 2016. In 2018, DHS issued visa sanctions against Burma and Laos.
According to Secretary Kirstjen Nielsen, "Ghana has failed to live up to its obligations under international law to accept the return of its nationals ordered removed from the United States" It is her hope that the Ghanaian government will work with the US to reconcile these deficiencies quickly."
It is important to note that a Supreme Court decision, Zadvydas v. Davis, prevents the government from holding aliens with final orders of removal beyond six months if there is no "significant likelihood of removal in the reasonably foreseeable future." Pursuant to this ruling, ICE typically releases aliens in their detention because their countries of origin do not have an established process for issuing travel documents to their citizens who've been ordered removed.
Affected Visa Types:
A Visa- Diplomats and foreign government officials
B-1 visa- Domestic employees or nannies (must be accompanying a foreign national employer)
B2 visa- Visitors for medical treatment, Tourists, vacationers and pleasure visitors
G1- G5, NATO: Designated international organization's employees and NATO
The restrictions will also limit the validity period and a number of entries on new tourist and business visas (B1, B2, and B1/B2) for all Ghanaian executive and legislative branch employees, their spouses, and their children under 21 to one-month, single-entry visas.
Visas issued prior to the effective date of these visa restrictions will not be affected.
Initial sanctions typically affect government officials as well as their immediate families and visas in the B categories. However, the Department of State may change the covered visa applicants or visa categories at any time.  Visa suspensions may include any categories of visa or visa applicants, as determined by the Department.