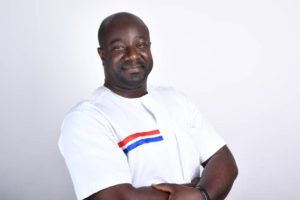 Written By Kofi Osei Bonsu Berchie
It is the 19th of January 2019, Anyaa- Sowutuom, a constituency located within the Ga-Central municipality of Greater Accra seems to be tethering for a major philanthropic activity. Temperature is above unimaginable levels, it is a Saturday to be exact and the sub-Saharan harmattan weather gradually alters the climate of the area.
          In collaboration with a non-governmental organization, Deseret Hospital has organized a free National health Insurance Scheme registration and renewal exercise. This event is an essential social intervention for people who live beneath the lower middle-class income bracket.
From afar, one can see long queues formed outside the Deseret hospital premises. Intriguing as it is, something seems to fuel the writer's inquisition. The unprecedented number of citizens without basic health insurance coverage points to a failure in the status quo in leadership and a disconnection between people of power and the ordinary constituents as far as social intervention and community development is concerned. Word within the neighborhood confirms that in 2015 Deseret Hospital organized a free health registration exercise, and in 2016 organized a free screening and registration exercise.
I decide to pivot my head to the right side of the entrance, I immediately spotted a burly young man with the stature of an NFL player and a statoscope dangling around his neck while he doles out instructions to a few people around him. Honorable readers, this young man is Dr. Dickson Adomako Kissi, a medical practitioner and son to the owner of Deseret Hospital, Dr. Abu Kissi and Mrs. Elizabeth Bamfo.
Dr. Dickson Adomako Kissi is a Ghanaian and an aspiring Member of Parliament for the Anyaa-Sowutuom constituency seat which is presently occupied by Hon. Shirley Ayorkor Botchway. Dr. Kissi is an old student of St. Peters secondary school in the Eastern region. He went on to study Economics and Chemistry at Brigham Young University, USA. He further worked at Covidien in Connecticut which was formerly known as Tyco Healthcare. After a career in business, he returned to Ghana and graduated from the Ghana medical school, so far he has worked in several companies and hospitals and done a lot of philanthropic work for the people within his community. He is currently the chairman for Professionals for Political Action, a strong grass root empowerment advocacy.
          Anyaa-Sowutuom is in dire need of a change in fundamental policies, leadership figures and the direction of its stagnant development, the youth of the constituency seem to be clamoring for inclusion and opting for the elimination of redundant bureaucracies that only seem to impede aspirations and opportunities for the teeming Youth of the constituency. From what I witnessed and information from some of the constituents waiting to register or renew their national insurance scheme pro bono, Dr. Dickson Adomako Kissi seems to be their best choice to lead the constituency.
As James Freeman Clark once stated, and I quote "Politicians thinks about the next election, a statesman thinks about the next generation." Dr. Dickson definitely emulates the 'statesman' James Freeman Clark refers to.
Source: The Ghanaian American Journal