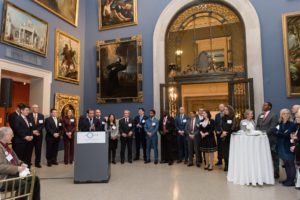 The World Affairs Council of Connecticut, a preeminent international affairs organization in the Constitution state, continues to wow their members and audiences with their signature global themed events. The Council hosted diplomats from over 25 countries on the evening of March 19, 2019 in the City of Hartford.
For the second year in a row, the country of Ghana was well represented by the Consul General of New York, Professor Samuel K. Amoako. Also in attendance was Mr. Fred Ameyaw, Information Officer, Ghana's Permanent Mission to the United Nations.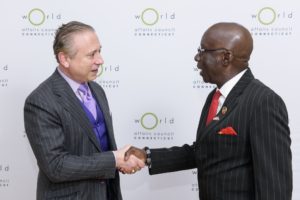 Mr. Fred Kyeremeh, the Founder and Publisher of the Ghanaian American Journal, an online news magazine based in Connecticut welcomed the Ghanaian officials to Connecticut, with his wife Mrs. Harriet Kyeremeh.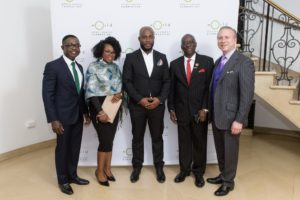 Megan Clark Torrey, the CEO of the Council, in her remarks stated that Connecticut is a global state. She cited the evening as a testament to the fact that thriving international connections are vital to our culture, community and economy.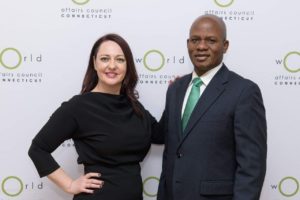 In addition to Ghana, the two other African diplomats represented were the Consul General of Nigeria in New York, Benaoyagha B.M. Okoyen; and Mr. Kagenza Rumongi, a communications expert at the Permanent Mission of Rwanda in New York.  
The countries of Bangladesh, Brazil, Canada, China, Germany, Hungary, India, Israel, Japan, Kazakhstan, Mexico, Nepal, Pakistan, Peru, Poland, Qatar, Romania, Russia, Rwanda, Turkey, United Arab Emirates, and the United Kingdom were all highly represented.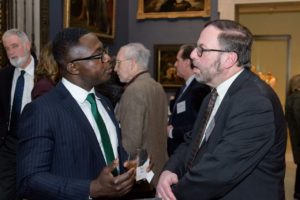 According to Mr. Fred Kyeremeh, Founder of the Ghanaian American Journal, the Ghanaian community in Connecticut continues to grow, and in diverse ways adds to the economic and social development of the state. He stated that Ghanaians contribute significant human capital to the State because they can be found in vital career fields such as health, engineering, finance, insurance, and manufacturing.
Mr. Kyeremeh intimated that perhaps one of the largest indicators of the growing Ghanaian population is the increase of Ghanaian churches in the greater Hartford region alone. He cited the recent inauguration of the Ghanaian Catholic Parish, a Quasi-Parish under the Arch Diocese of Hartford, which is a historic first in North America.