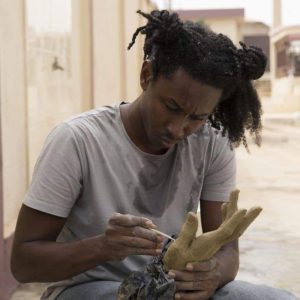 Kwame Akoto-Bamfo ( Osramba Studio ), a sculptor who uses his skills to create a repository of Ghanaian history and heritage in a 'language' using symbols that people can relate to and understand," and to also tell the stories of Ghanaian or African ancestors (Ancestor Project).
Kwame Akoto-Bamfo, a Ghanaian artist and the creator of Ancestor Project www.ancestorprojectgh.com and the Nkyinkyim is an art Installation/monument.
Nkyinkyim installation is an evolving art installation which is attempting to use sculptures
To tell the story of African heritage.
I work with a varied number of assistants every now and then but I for now I make 90 percent of the Nkyinkyim's sculptures, whiles my assistants help me with the equally laborious task of mould making, casting, detailing and clean-ups. (A special thank you to Farouk Nii Kwartei Quartey who has been with me since the first concrete head)
The project has been running for about 6 years now but you are probably now hearing about it because I spend more time creating artwork for the project, managing and reaching out to empower youth, other than doing social media awareness.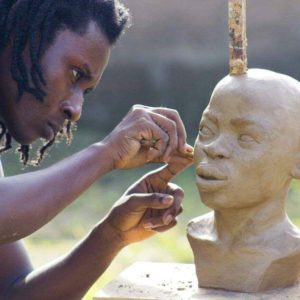 Kwame explains; "The Ancestor Project is a conscious effort by the creators (artists and volunteers) and participants (everybody else) to promote African heritage values through the use of art, music and performance. It is the vehicle through which our objectives will be channeled to the public".
Simply put, Ancestor Project is a group of artists, architects, designers, performers and volunteers who are using their skills to empower and educate youth in the diaspora about African heritage.
The pain is ever evolving. From enslavement to racism to mass incarceration. Maybe it is not evolving, maybe it is a loop of pain. Well, whether it is an evolution or a time loop, this pain for black people is persistent.
Have you ever asked this of yourself about enslavement of other human beings "Did God care? What do you think is the answer? What is your version of the truth? Does that truth make you comfortable?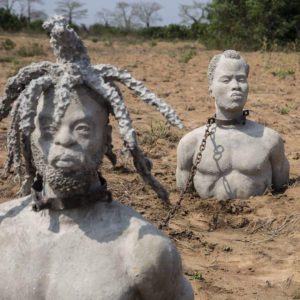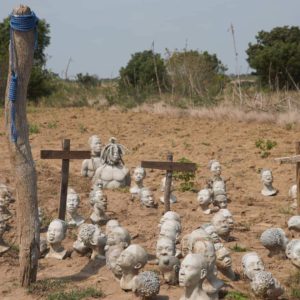 His hair was his crown. His hair was proof of his importance to his community, to his kingdom, to spirit and now… to his race. For 400 years his hair/crown will become his chains; like the shackles that hold him, they will be the instrument of his distruction. In 2019 a law will be passed by those who made it so… that his descendants can wear their hair proudly again..just as their ascestor did, before his race, hair and skin colour became the definition of his low status in life.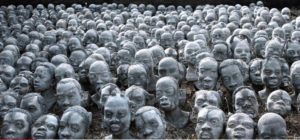 400 portraits of Africans to mark 400 years of resilience against physical and mental slavery. You are the face of your ancestors. Come and be a part of this experience. Come to Ghana, come to Ada and my friends and I will make a portrait of you as Part of my Nkyinkyim Installation.
We will appreciate a donation but remember that getting your portrait done for this event "Nkyinkyim Za" is absolutely free!