The 44th MTN SWAG AWARDS that celebrates excelling Ghanaian sportsmen and women saw the likes of Thomas Partey, Mukarama Abdulai, and Akwasi Frimpong win.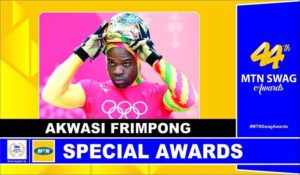 The edition of the prestigious awards that celebrates excelling Ghanaian sportsmen and women.
The event which was held at the Accra International Conference Centre on Saturday night had Togbe Afede XIV as special guest. There was also a performance from VGMA 2019 'Artiste of the Decade' nominee Samini .
The 2019 44th  MTN SWAG Awards winners have been announced.
Special Awards
Akwasi Frimpong (bobsledder)
Coach Ansem Asseyeh Kwablah
Ghana Revenue Authority
T.I Ahmadiyaa Senior High School
Jonathan Euro
Daniel Nii Mensah
Albert K.Frimpong (skate soccer)
Greater Accra Handball Association
Casely Hayford Hall (CASFORD)
Kofikrom Pharmacy
Bonatone Ghana
Message from Akwasi Frimpong to Fans
Thank you for your support leading into the  2018 Olympics, during the Olympics and your support towards Beijing 2022. For my 2018 accomplishment I was awarded the 44th MTN SWAG special award for becoming Ghana's first skeleton athlete and the first Blake male skeleton athlete from the continent of Africa. I couldn't have done that without your support, so this one is for you and all underdogs that were told their dreams are unattainable. This is an extra motivation to stay relentless in my pursuit of winning Africa's First Winter Olympics medal in Beijing 2022.  A task that is not going to be easy. But if it was easy then out of 1.2 billion people in Africa someone would have already done it.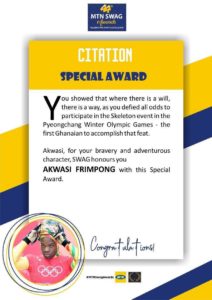 Check the full list of winners out:
Sports Personality of the Year
Thomas Partey
Male Footballer of the Year
Thomas Partey
Female Footballer of the Year
Mukarama Abdulai
Male Table Tennis Player of the Year
Derek Abrefa
Female Table Tennis Player of the Year
Celia Baah Danso
Male Armwrestling Player of the Year
Haruna Tahiru
Female Armwrestling Player of the Year
Alberta Ampomah
Professional Boxer of the Year
Richard Oblitey Commey
Prospect of the Year
Hor Halutie
Para-Athlete of the Year
Fredrick Assor
Athlete of the Year
Janet Amponsah
Coach of the Year
Osei Boakye-Yiadom (GRA Ladies Hockey)
Amateur Boxer of the Year
Jessie Lartey
National Team of the Year
The Eagles (Rugby)
Professional Golfer of the Year
Kojo Barnni
Male Rugby Player of the Year
Michael Arko Bahun Wilson
Female Rugby Player of the Year
Rafatu Inusah
SWAG President's Award
Joe Lartey Snr.